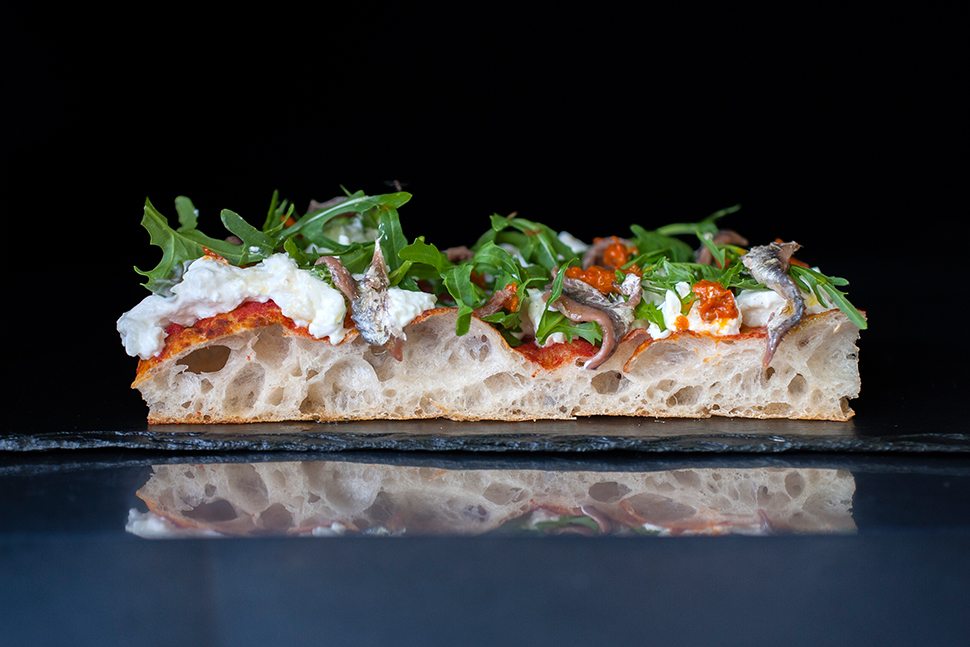 Baby Crosta is the latest addition to the internationally acclaimed pizza brand Crosta Pizzeria. Making the list of the Top 10 Pizzerias in Asia-Pacific and bringing home the World Pizza of the Year 2023 award from 50 Top Pizza, Crosta adds its unique approach to pizza by launching the first-ever Roman-style pizza in Japan's powder haven. Baby Crosta is a contemporary take on traditional Roman-style by-the-slice pizza, so expect a fun, social setting, with unique flavors that showcase the best produce in Hokkaido, all within footsteps of the Niseko Village gondola.
Upstairs from Baby Crosta is an intimate and exclusive chef's table called Pizza Bianca. Lead by Chef Yuichi Ito, awarded the Best Pizzaiolo 2022 in Japan, this will be the first Pizza Omakase experience in Niseko. Pizza Bianca elevates the simple indulgence of pizza into an art form, combining exquisite ingredients from across Hokkaido to create a culinary masterpiece. Here, the concept of omakase pizza comes to life, granting patrons an extraordinary experience of chef-curated, ever-changing flavour combinations. Each slice serves as a passport to a world of taste, an amalgam of diverse flavours harmoniously united upon a single, impeccable crust. Set within an environment of rustic elegance, Pizza Bianca focuses on the quality of food and is sure to be an experience not to miss.
Whether you seek respite after a spirited descent on the ski slopes or simply wish to immerse yourself in the local atmosphere, Baby Crosta and Pizza Bianca delivers a dining experience that is both gratifying and utterly unparalleled within the culinary landscape of Niseko-yo.
Niseko Village, Higashiyama-onsen, Niseko-Cho